How to register
Before you can explore the Enote library, you will need to register an account.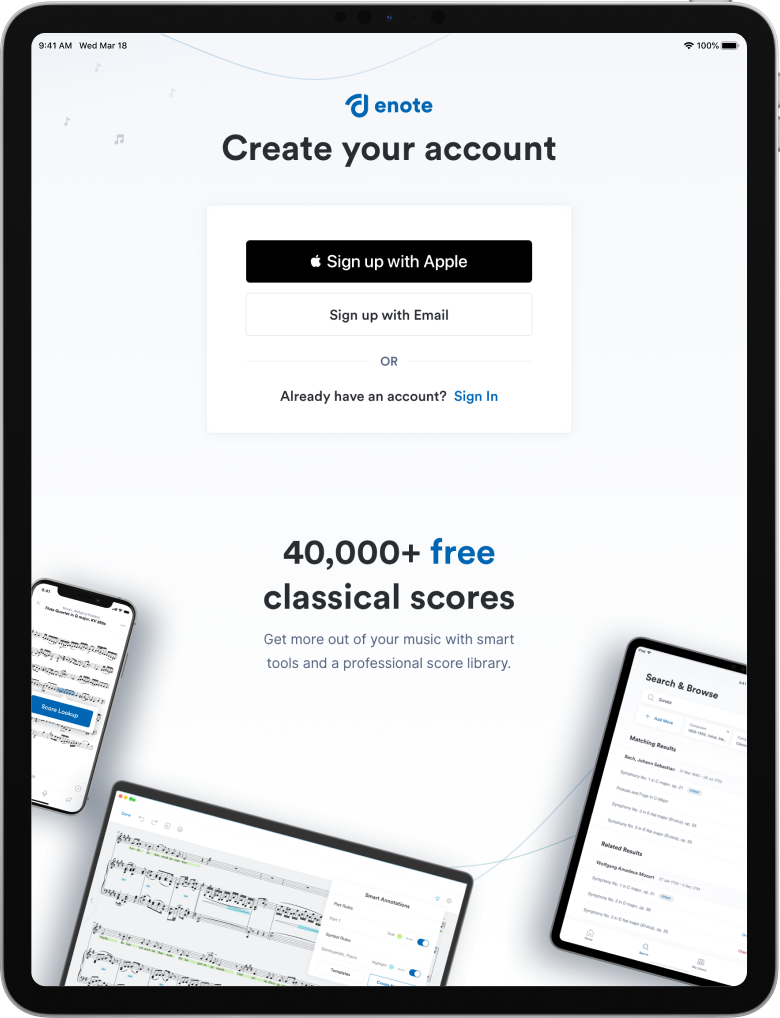 Follow these steps to complete your registration:
Select either Sign up with Apple to create an account with your Apple ID, or Sign up with Email to create an account the traditional way using an email and password.
If you choose to register using email, accept our Terms & Conditions, tap Register and follow the prompts to verify your account using the code which is sent to your email address.
Follow the prompts to let us know more about the instrument and type of music you play.
If this doesn't work, there are a few troubleshooting steps you can try.
Verification email not received
If you have chosen to sign up with your email address and you don't receive a verification email - don't fret!
There's a good chance the message was caught up in one of your email filters, so check your junk mail or other filtered folders - like Gmail's Promotions tab.
In rare situations, the administrator settings of your school or workplace email may block you from receiving the email entirely. If you think this is happening to you, try registering your account with a different email address to see if that fixes the problem.
Account already exists
Email addresses can only be associated with one Enote account. If you already registered your account by signing up using your email address, or if you previously used Apple to sign in and are trying to register again with the same email address as your Apple ID, you will receive an error message.
This can be solved via a simple password reset:
Tap the option to Sign in from the bottom of the registration screen:




Enter your email address and tap Forgot?
Follow the prompts to reset your password.
Contact us
If these tips haven't solved your problem, contact us and our team will be happy to assist.