Our Annotation Layers feature lets you add different sets of annotations to the same score, so you can keep your notes neatly separated across different projects.
To add Annotation Layers:
Tap to enter Draw Mode.
Tap the Annotation Layers icon to open the Annotation Layers menu.

Tap Add New Layer to create a clean new layer, ready for your notes.
Tap to rename your new layer or delete existing layers.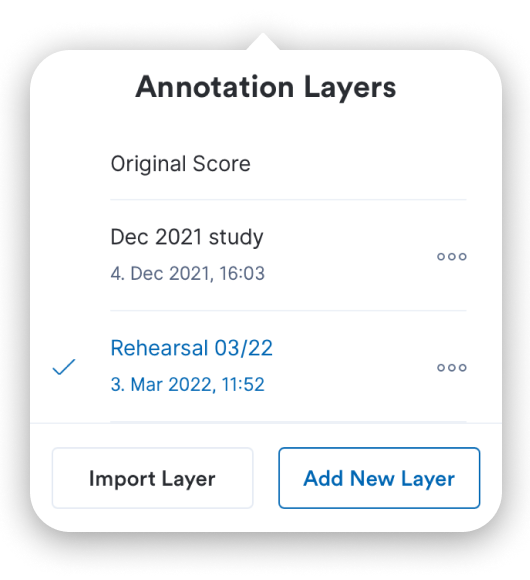 To share Annotation Layers:
You can share Annotation Layers with other musicians for easy collaboration. Shared layers are automatically added to the same work in the recipient's Enote library with your original layer's title.
Tap to enter Draw Mode.
Tap the Annotation Layers icon to list your existing Annotation Layers.
Tap and select Share to send your layer via the default Apple sharing menu.
Your annotation layer will be sent to the recipient as a file. When they open the file, an editable copy of your Annotation Layer will be added to the appropriate score in their Enote library.
Note that any changes you make to Annotation Layers after sharing will only be updated on your devices, and not on the devices of users who received your layer. If you would find the option of sharing synchronized layers with others helpful, please send an email to the address below with details of your use case.
Questions or suggestions? Email us at help@enote.com