Our Score View looks simple, but is loaded with powerful tools that make working with sheet music easier.
The Score View can be broken into the following main sections: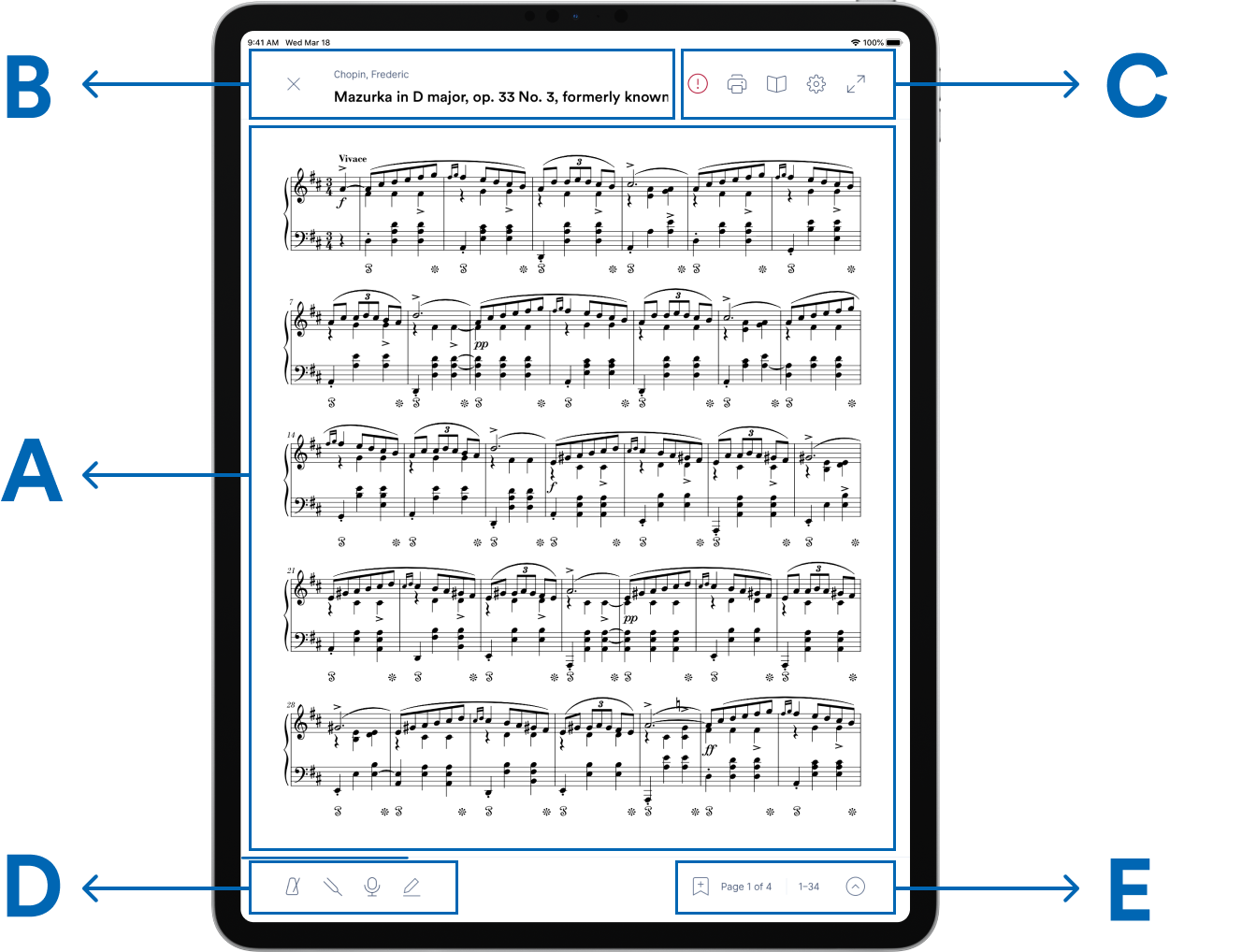 A. Your Score
B. Score Information
C. Score Tools
D. Working Tools
E. Navigation Tray

Tap any of the links above to skip straight to information on each of these sections.
Your Score
The main section of the Score View is dedicated to your sheet music. Turn pages by swiping, or by tapping on the left and right side of the screen.
Two additional features are also hidden away in this section of the Score View:
Quick Jumps:

Quick jumps like this will appear in your score viewer's margins when you reach a repeat, Coda, D.S. or D.C. symbol. Just tap the button to skip straight backward or forward to the target of that symbol.



Score Lookup:

Enote scores let you quickly reference the full score from any measure in your instrumental part. Just hold your finger on the measure you'd like to compare and tap the button to call up a preview of the work's full score.
Score Information

The top-left of your Score View shows the name of the work and composer you have open. You can exit the score view by tapping the
icon.
Score tools

The top-right section of the Score View contains tools for adjusting the setup and contents of your score.
Full Screen:
Tap this icon to remove all top and bottom menu items.


Score Settings:
Tap for a list of tools that let you adjust the layout of your scores. Our flexible Digital Editions give you full control, while static Print Editions only provide limited options. The full list of menu items are:


Layout Type: Choose between a Tablet Layout that uses the full potential resolution of your device's screen, or a Paper Layout that displays your score at a specific page dimension you intend to print later.

Music Size: Gives you the option to display your notation in Default, Small, Large and Extra Large sizes.

Page Format: This menu item is only visible when Paper Layout is selected, and allows you to define paper dimension, such as A3, A4 or Letter.

Notation Style: Choose between our four familiar engraving styles - Classic, Traditional, Legacy and Modern.

Background: Choose between white and sepia backgrounds for your score.

2 Pages in Landscape: This menu item is only visible when Tablet Layout is selected, and lets you choose between a full-width or two page view when your device is using a landscape orientation.

Toolbar in Full Screen: Toggle on to see your Working Tools and Navigation Pane at the bottom of your Full Screen view.

Transpose: You can instantly transpose Digital Editions up to 12 steps up or down from their original version. Read more about our transposition tool here.

System dividers: Adjust the colour and placement of system dividers, or remove them entirely .

Quick Annotations: This menu item is only visible to iPad users, who have the ability to make annotations on their score without entering Draw Mode by using an Apple Pencil. It lets you set the style, weight and color of these Quick Annotations.



Print:
Tap to easily Print your score or export a print-ready PDF. For best results when printing a Digital Edition, we advise switching to a Paper Layout in the Score Settings menu, then selecting your prefered Page Format. You can choose to include or exclude your annotations using the Print Annotations toggle.



Report an issue:
If you find a misprint in your Digital Edition, please tap this icon to report it to our team. Your report will help us correct this mistake in the future, and help the team repair root cause errors that increase the accuracy of all Digital Editions. Read more about reporting score errors here.



Switch editions:
Tap this icon to toggle between the available Print or Digital Editions of this score.

Working Tools
The bottom-left corner of your score view contains useful tools for practicing and preparing your score.
Navigation Tray
The bottom-right section of your Score View contains an expandable Navigation Tray that makes it easy to move around your score.
Tap
to open the full tray, where you can scroll through the full pieces on a slider, navigate by movement or scenes, and add bookmarks. You can also view all saved bookmarks, and hide full movements using the
icon.
When you've found your place in the score, tap the preview to move straight there. Even when your navigation tray is closed, you can see your progress listed in movements + measures and page numbers. You can also add bookmarks to a specific page by tapping the
icon.
When playing from a Print Edition score, you will also see two additional icons in this section:
and
Tap
to see all Quick Jumps that have been set for the score, or to add or remove your own shortcuts using the
and +Add buttons.
will list all the movements already defined for the score, and you can manually add or remove your own movement markers.
Read more about navigating Enote scores here.
Questions or suggestions? Email us at help@enote.com