Enote gives musicians access to scores and parts for over 20,000 classical works through an intuitive search interface.
This makes it easier than ever to find the specific scores you are looking for, or discover new repertoire for your instrument or ensemble.
Connection Required
Enote's library contains too much music to save locally on your device, so an internet connection is required to browse available works.
Individual scores and parts can be organized in the
tab, and Premium users have the option to download scores for offline access.
You can read more about managing your saved works using My Library here.
Searching for Scores
You can search for scores on the
tab, or from the search bar on your home screen.
Sheet music in Enote is sorted into Works. Each work contains a set of scores and instrumental parts for the original composition.
Just type the name of a piece or composer you're looking for in the search bar to call up a list of matching works in the Enote Library: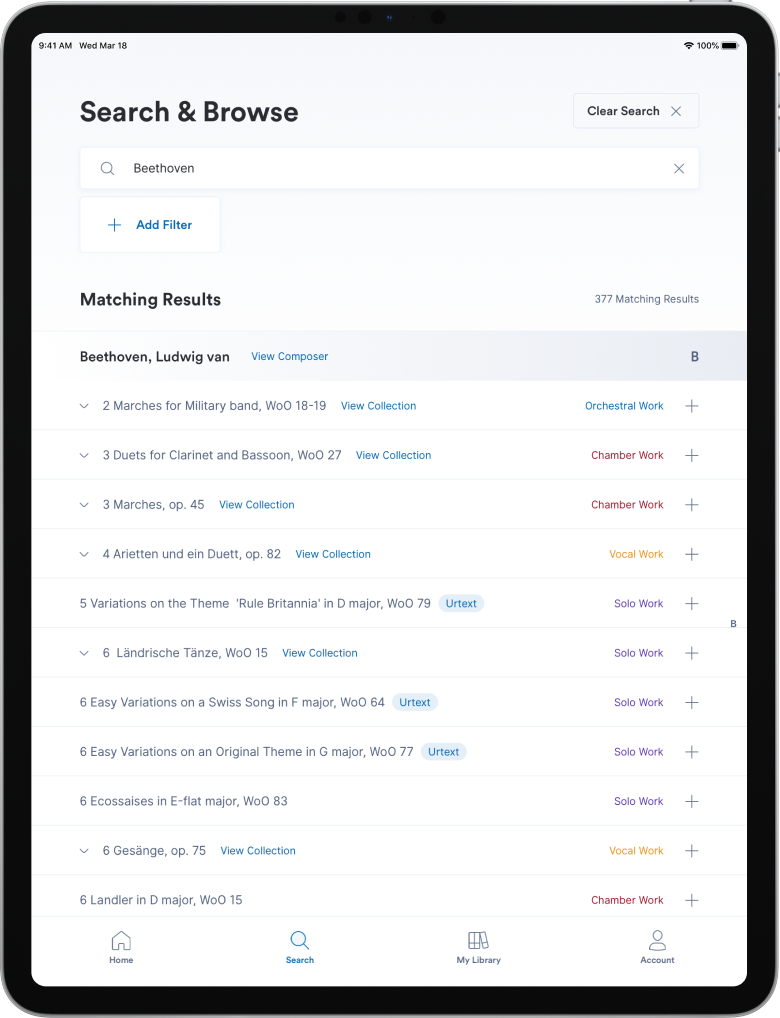 You'll notice that collections are grouped for easy browsing. Tap the arrow to see a list of all works in the collection in your search results, or tap View Collection to see these works on a separate page.
You can also browse all of a composer's works by tapping View Composer next to their name.
Using Filters
Search filters let you use musical criteria to browse our library or further refine your search results.
You can add filters to a search by tapping the white + Add Filter button below the search bar.
You can also use filters without a search term to browse all the works that match certain criteria. Select the search filter categories you need from the boxes that appear below the empty search bar: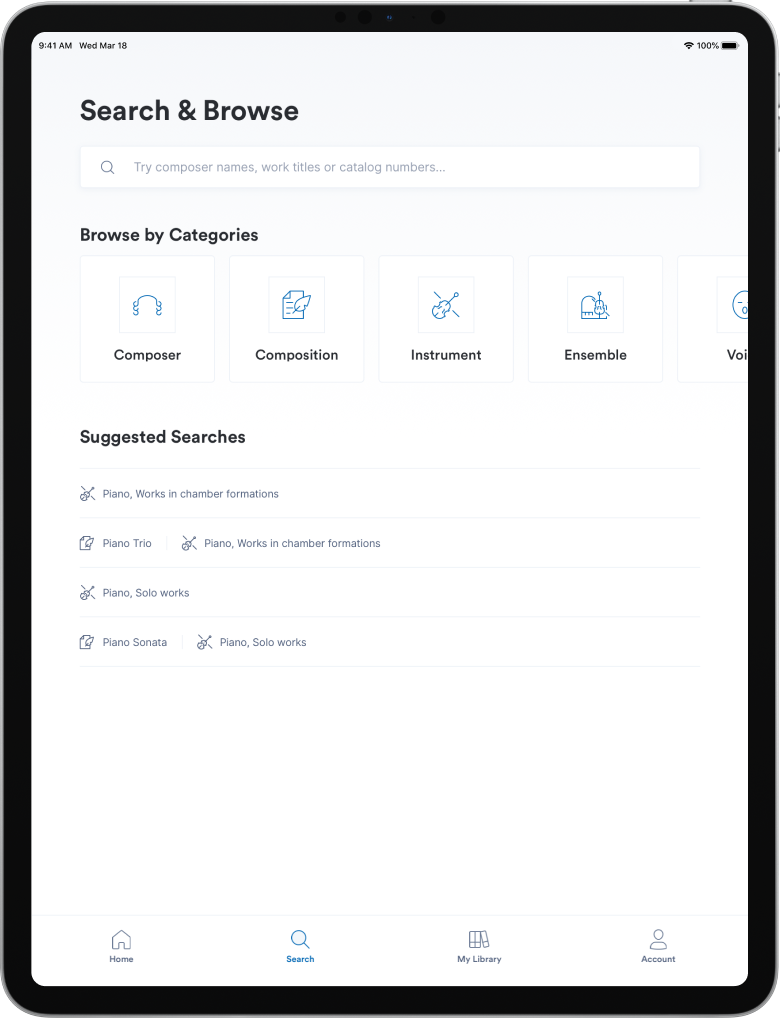 The Work Page
When you find a piece that interests you, simply tap on it to open the Work Page: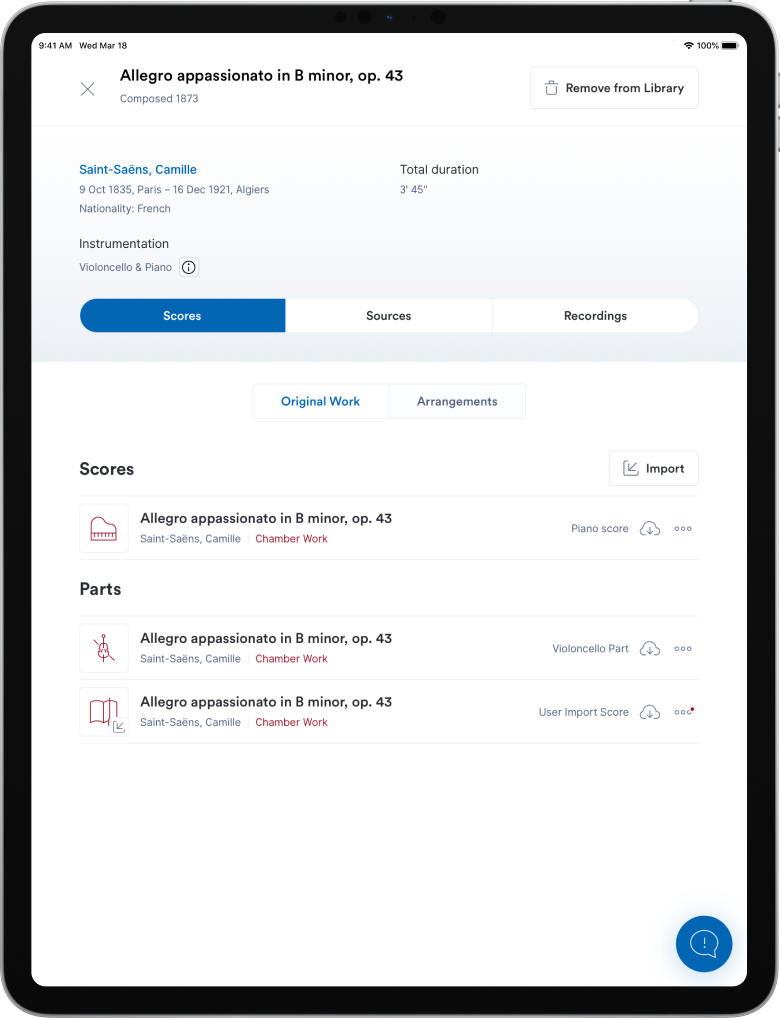 The Work Page contains all available scores and parts for the piece, as well as information about the work's structure, instrumentation and composer. Any imported files that you have assigned to this work will be available on the Scores, Sources or Recordings tabs.
Tap on any score or part to open it in the Score Viewer. If more than one edition is available, you will prompted to choose your preferred publisher: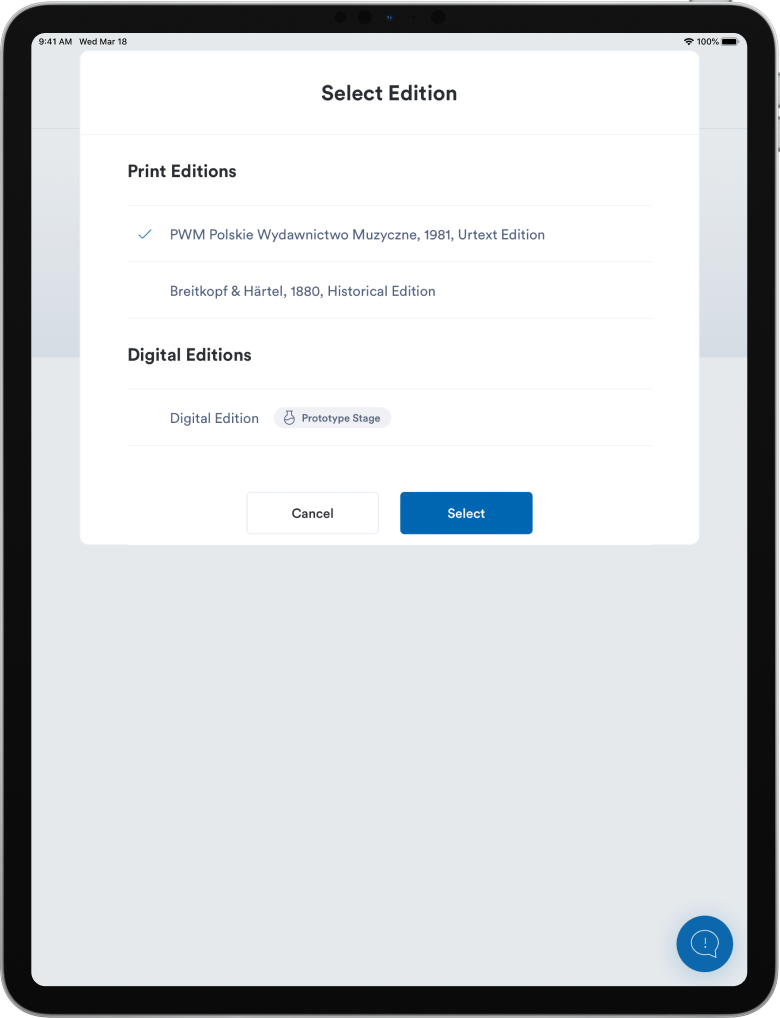 You can also use the
icon to save scores or parts to your device, the
button to add your own file to the Work Page, or the + Add to Library button to save the piece in My Works.
Missing music
Our team are digitizing the world's sheet music systematically, starting with Solo, Chamber, Vocal and Orchestral works, and moving into Stage, contemporary classical and other modern genres.
This means some works you search for won't be available in our library yet, but will be added in the future. Note that you can add any missing scores that you need to your library using the Import function.
Questions or suggestions? Email us at help@enote.com