Enote provides both familiar and all-new navigation features that help you move around your scores quickly and easily.
Page turning
Page turning is the most fundamental navigation feature, which you can do with a natural swipe, or a tap on the left or right third of the page. When using Enote for Mac you can use the left and right arrows on your keyboard to turn pages, or swipe left and right using the trackpad.
Note that iPads in landscape orientations and wide Mac screens will display multiple pages of Print Editions by default. If you'd like a closer look, open Settings
and toggle off 2 pages in landscape (iOS devices) or Multiple Pages View (Mac) to move through scores in half pages.
Enote is also compatible with Bluetooth Page Turners. Just switch on and pair the device, and you're ready to turn pages from the Score View.
Quick Jumps
When progressing through your Enote score, you'll also notice Quick Jump buttons appearing in your score's margins, which provide a shortcut to the destination of Repeat, Coda, D.S. and D.C. symbols.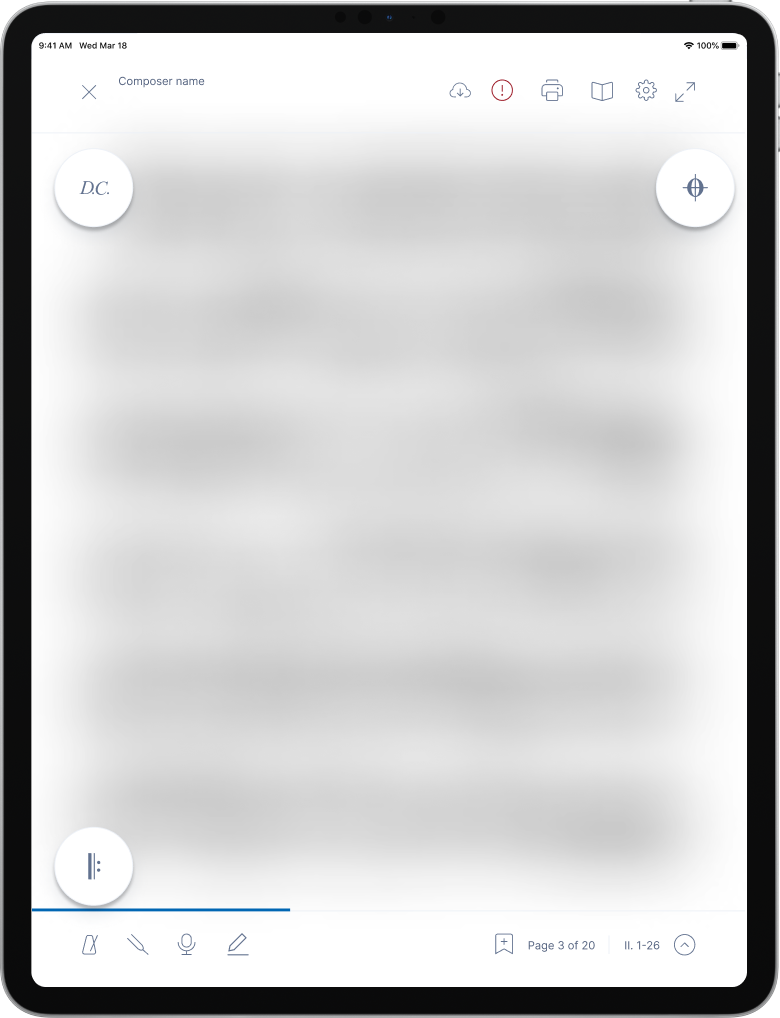 You can view and manage Quick Jumps in Print Editions and imported scores from the
menu in the top-right of the screen, under
Manage Repetitions and Quick Jumps
Learn more about our Quick Jumps feature here.
Progress Information
You'll notice information about your current progress through page numbers, movements and measures at the bottom of your Score View: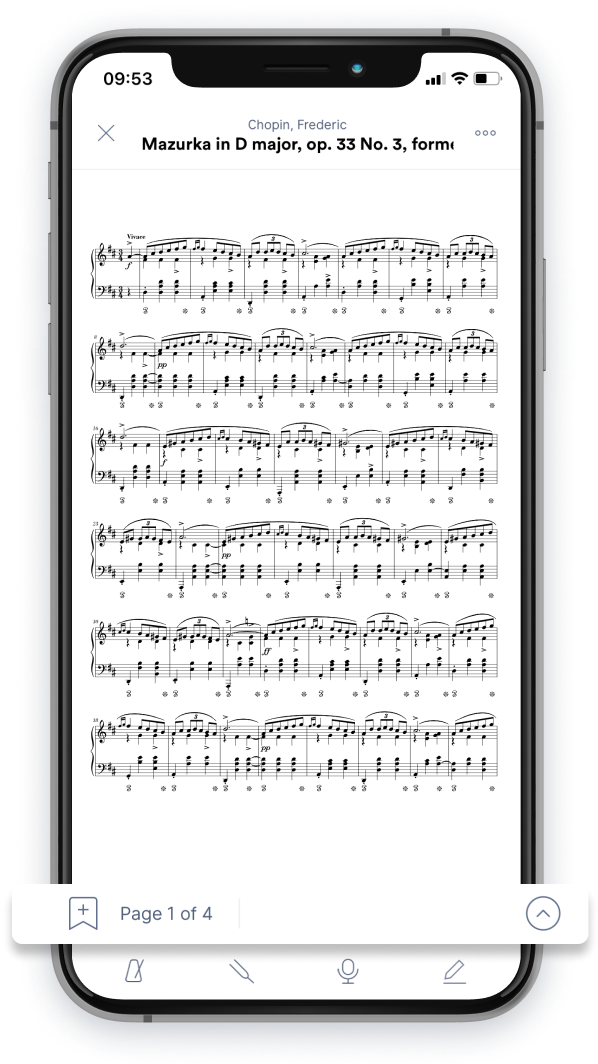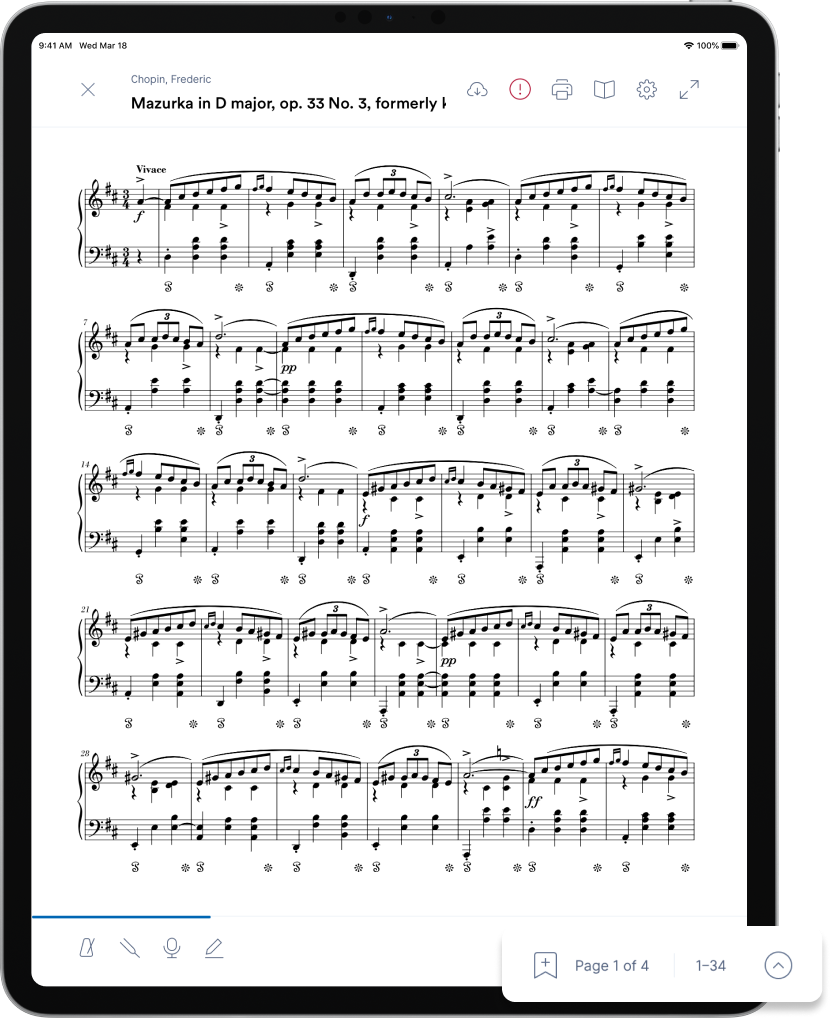 The
lets you add or remove bookmarks on the current page, while the
opens the full Navigation Tray.
The Navigation Tray
The Navigation Tray offers you multiple options to get around your score quickly: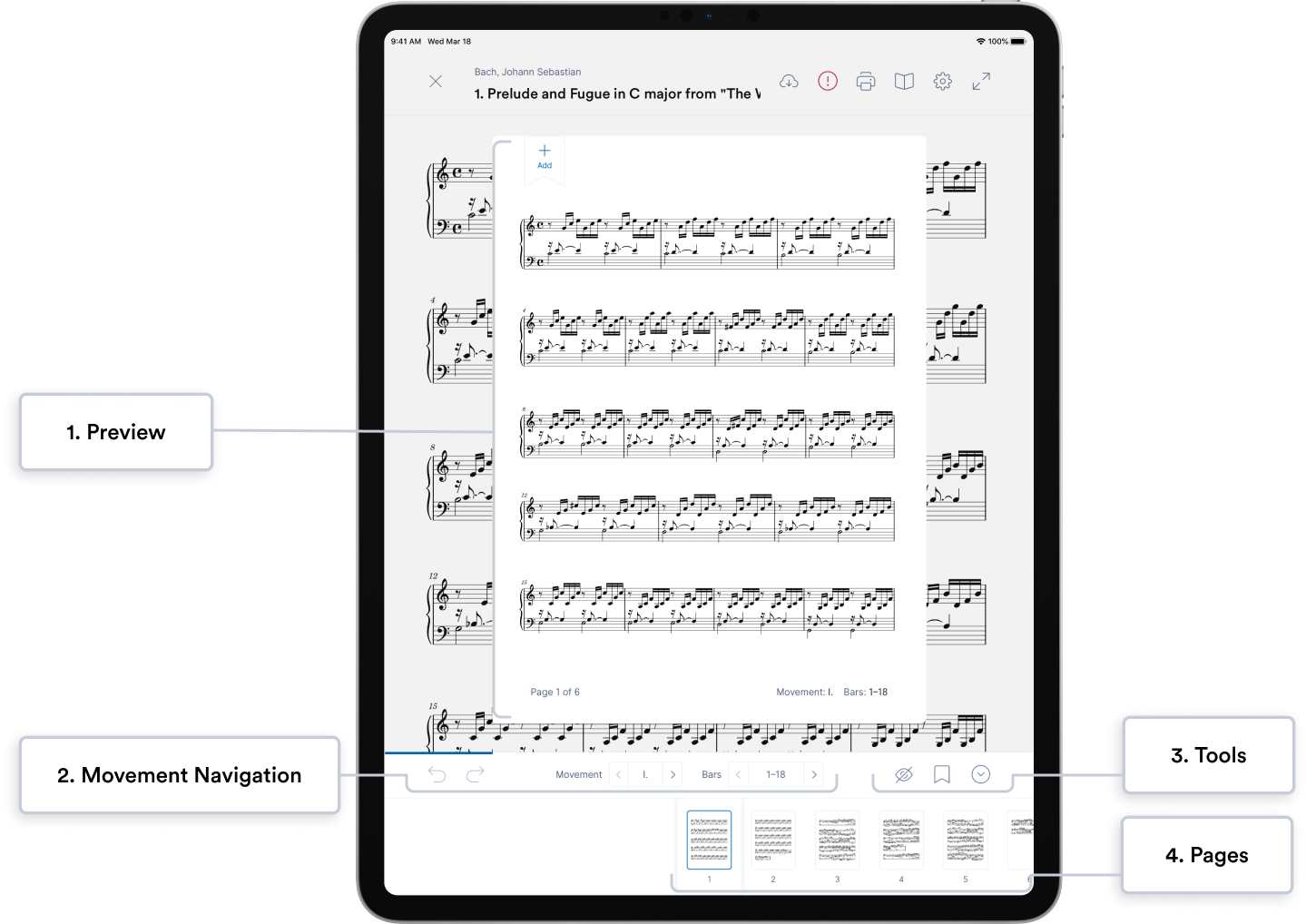 1. Preview: The main section of the navigation tray is this Preview Pane, which shows where you will be navigating to. When you have found the right place in your score, tap on this preview (or tap
on iPhone) to move to this section.
2. Movement Navigation: These controls let you jump between predefined movements and bar numbers in just a tap. Tapping the movement number here will bring up a list of movements by title for quick navigation.
3. Tools: The
lets you hide and unhide movements. Hidden movements will not be shown when progressing through your score. The
icon shows a list of all your bookmarks in order, so you can quickly jump between your markers. The
icon closes the navigation pane without moving to your destination on iPad and MacOS. On iPhone this icon will bring you to the previewed page.
4. Pages: The bottom section gives you an at-a-glance view of what's coming up on the next pages, and lets you move forward and back quickly with a simple sliding gesture.

If movements or sub-movements are missing from any of your scores, you can add them manually from the
menu. Use the
icon to toggle between movement and sub-movement: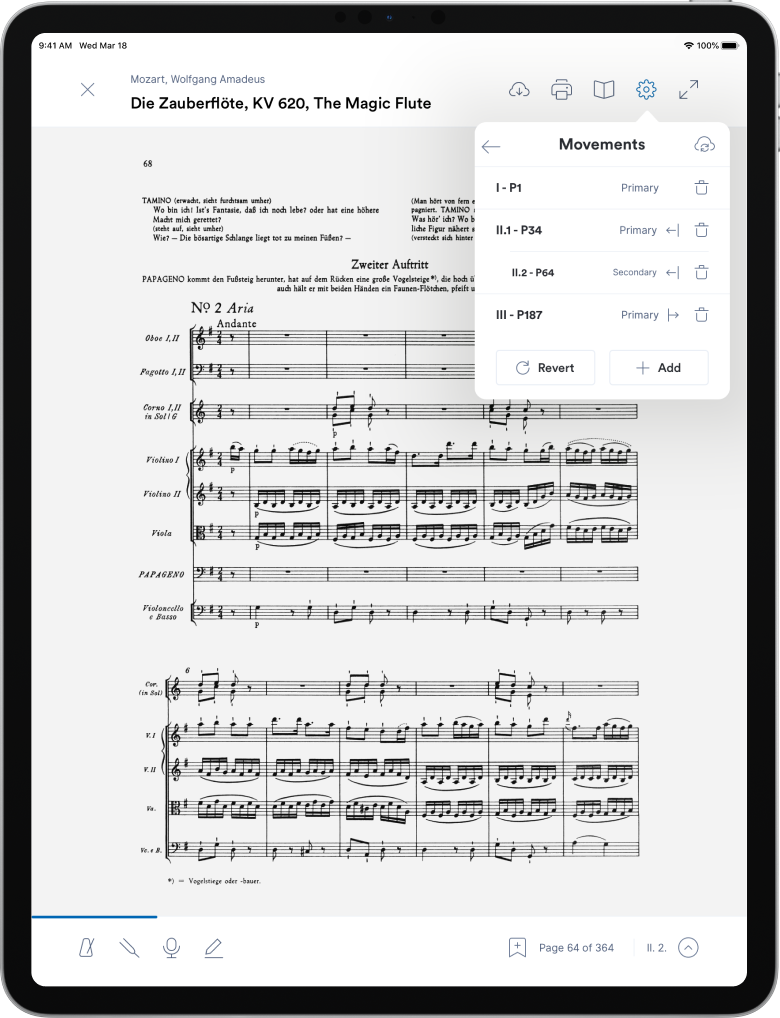 Questions or suggestions? Email us at help@enote.com