Welcome to Enote! This Quick Start Guide will get you up and running in no time.
The First Open
When you first open the Enote app, you'll need to do two things:
Select your instrument and musical preferences



This helps us provide you with relevant updates on new additions to our library and any instrument specific features like fingering or bowing marks.

Note that Enote gives users full access to all scores and parts, so you won't be restricted by these choices.



Register your account



Registering an account doesn't just give you access to Enote - it allows you to sync your work across multiple devices. This is particularly helpful for studying music in transit or printing score copies

if you've left your tablet at home.



You can register your Enote account in two ways:

a) Sign up with Apple: Use your Apple ID to quickly register an account with Enote. This is the quickest way to stay in sync across your devices.

b) Sign up with Email: If you'd rather register outside of the Apple environment, just enter your email and preferred password, agree to our T&Cs and tap register. We'll then send a verification code to your email, which you will need to enter to complete registration.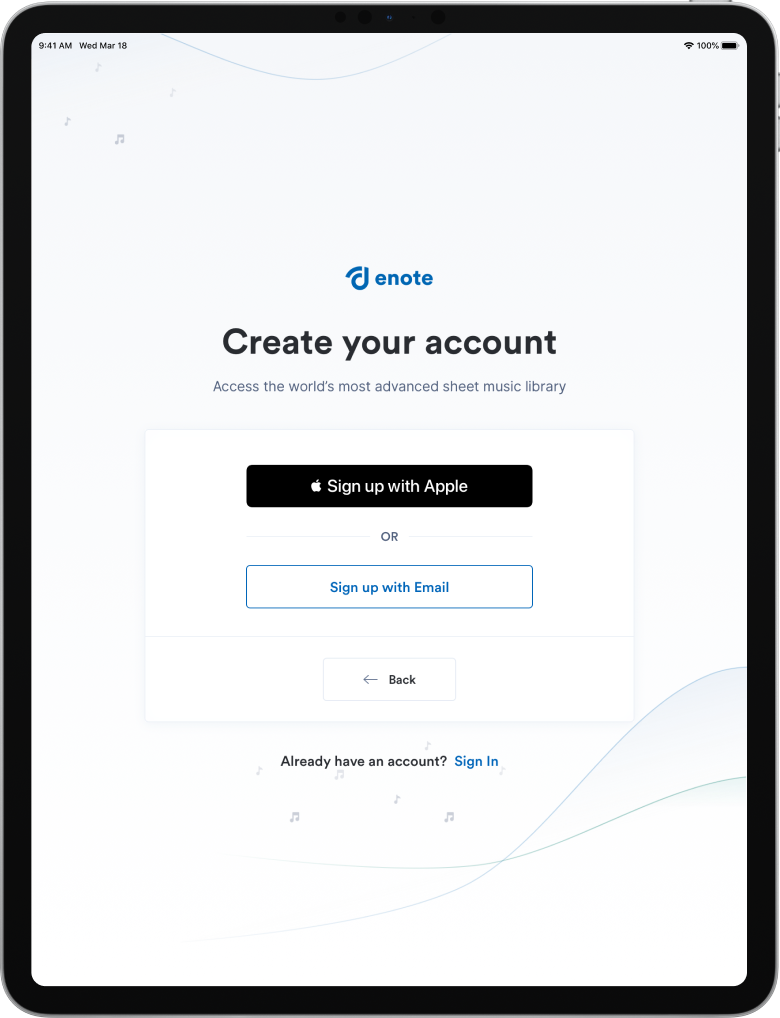 Working from the Home Screen
Your home screen looks a little empty now, but will soon give you quick access to everything you need in Enote. Here's a version of the home screen after a few weeks of use: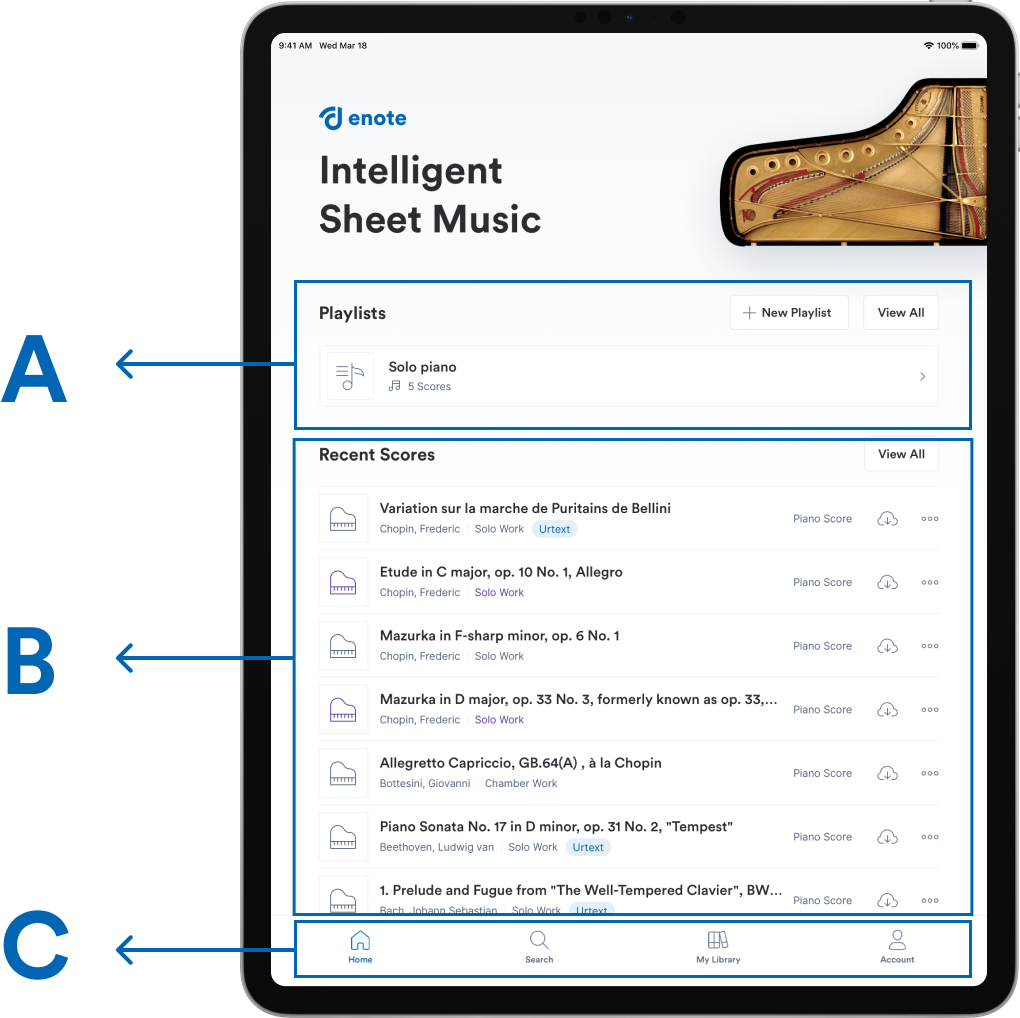 The features marked above are:
A. Playlists
Quick access to any playlists have created. You'll learn more about playlists further down the page in the Managing Your Library section.
B. Recent Scores
A list of the latest scores you have opened on this device, letting you quickly get back to the pieces you're working on.
C. Navigation Bar
Note that if you're using the MacOS version of Enote, this Navigation Bar will appear on the left-hand side of your screen.
This navigation bar lets you move between 4 key areas of the Enote app:
| | |
| --- | --- |
| | This screen. |
| | Search for works in the Enote Library. More on this shortly. |
| | Manage your personal collection of works and playlists. |
| | Update personal details and manage your account. |
Searching for Music
The search screen will be your first stop in Enote:
Just type the name of a piece or composer you're looking for and tap search to call up a list of matching works from our Library.
Some general terms like "Bach" or "Piano Trio" will return hundreds of results. To help you narrow these down further, we've introduced Search Filters that let you refine results with musical criteria like ensemble type, instrument, publisher, edition, period or musical form.
You can add filters to a search by tapping the white + Add More button below the search bar. You can also use filters without a search term to browse all the works that match certain criteria. Select the search filter categories you need from the boxes that appear below the empty search bar.
Tap any piece you're interested in to open its Work Page. You can also add works to your personal library straight from the search results by tapping the
icon next to the work's name.

You can read more about browsing the Enote Library here.
The Work Page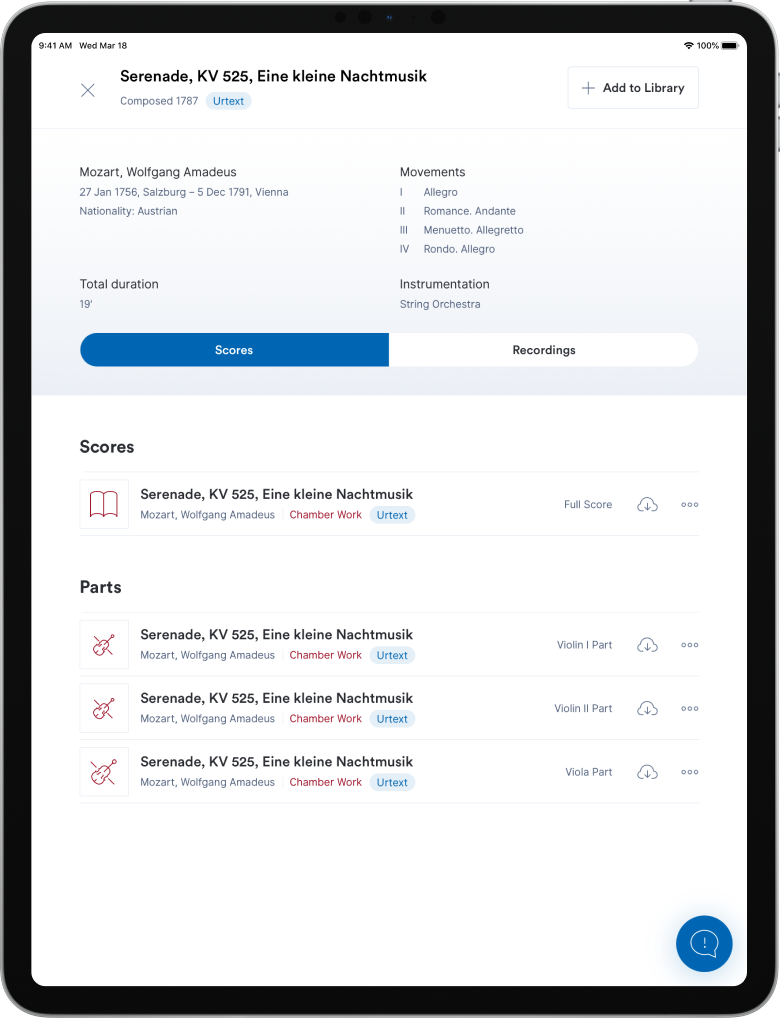 The Work Page screen lists all scores and parts for each work, along with details on instrumentation, movements other useful information.
You can also access Recordings of this work from the 'Recordings' tab.
If you'll be returning to the score often or need to view it when offline, tap the
icon to save the file to your device's local storage.
Tap Add to Library in the top-right corner to save this work to your personal library. You can also add individual scores to a playlist by tapping the
menu.
Open any score or part by tapping it. If more than one edition is available, you'll be prompted to select your preferred version: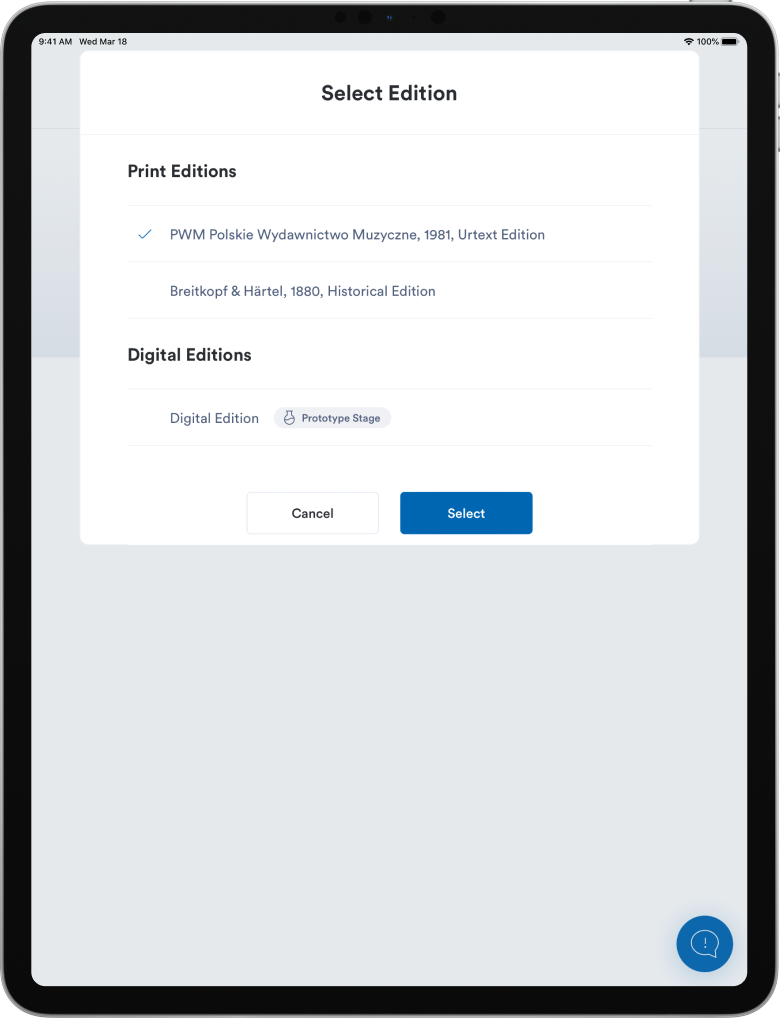 Remember that Enote users have full access to all scores in our Library, so you can feel free to explore any full score and instrumental part you see.
The Score View
On to the exciting part, your scores!
Like our home screen, there are a few key areas in the score view to be aware of: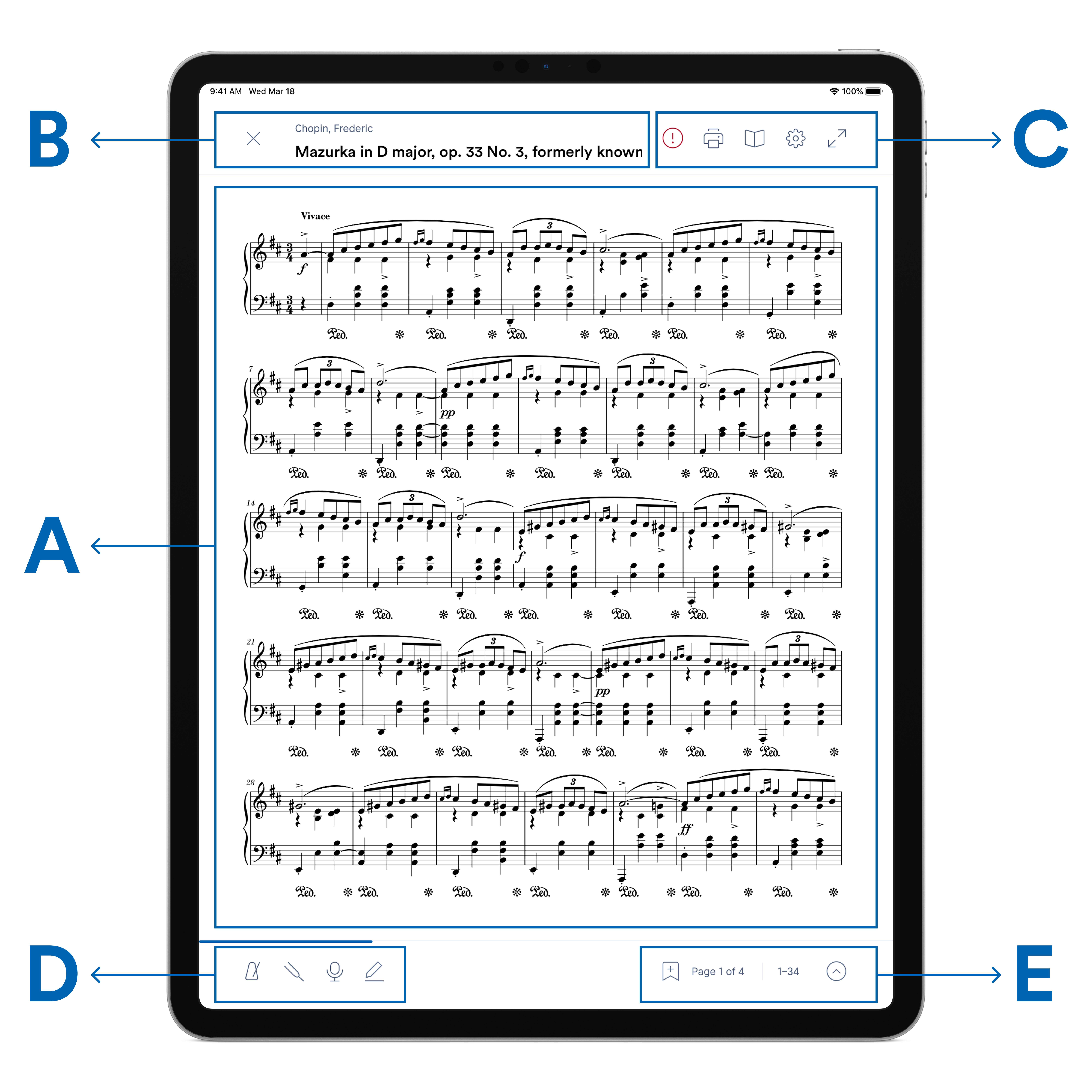 A. Notation: The main event! Swipe left and right to scroll through score pages, and look out for Quick Jump buttons
in your margins to jump straight to Repeat, Coda. D.S. and D.C. destinations.
B. Score information: The work's title and composer. You can also close scores here using the
icon.
C. Score Tools: These tools let you adjust score settings, print score copies, switch editions or play in full screen mode.
D. Working Tools: Access a Tuner, Metronome and Recording tool straight from this toolbar, or tap the
icon to enter Draw Mode and annotate your score.
E. Navigation Tray: Tap the
icon to open the Navigation Tray and move quickly between measures, movements, pages or bookmarks.
You'll find a detailed guide on working from the Score View here.
Managing your library
The My Library tab lets you save and organize the works and scores that matter most to you. The My Library screen is split into 2 sections:


1. My Works: For saving works that are of interest to you from our full library. Just tap the
icon next to a work name or choose Add to Library from the work page to add the work to your library.


2. My Playlists: For saving collections of individual scores and parts for each of your projects or commitments. You can create playlists from this section, or add scores to new or existing playlists from anywhere in Enote by tapping the
menu beside any score listing.


Music saved in My Library can be accessed offline at any time, while browsing the full Enote Library requires an internet connection.
Questions or suggestions? Email us at help@enote.com